Dad promised I would get better…and he made it happen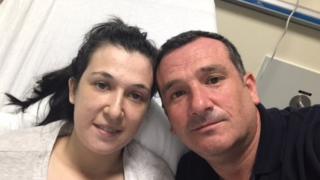 As a fire station master, Alex Hume knows more than most about saving lives.
When his daughter Kayleigh fell seriously ill, he promised her he'd make sure she'd get better.
Kayleigh has the genetic condition Alport syndrome, which can lead to kidney failure.
Alex said: "It was late teens when we knew that things were deteriorating and she was going to start dialysis, and ultimately require a kidney transplant.
"Because I always knew that Kayleigh had kidney problems, I always hoped I would be a match for her."
Low point
Unfortunately, they had incompatible blood groups. He would not be considered as a potential donor for Kayleigh.
Kayleigh's mother also has the condition and had a successful transplant 17 years ago from a deceased donor.
At first, Kayleigh adapted well to the routine of dialysis. She attended the renal unit at the Edinburgh Royal Infirmary at the same time – three days a week for three hours of treatment.
Alex signed up to a paired exchange programme, which aims to help incompatible pairs of recipient/donors to find another pair within the UK.
"I would donate to them and they would donate to Kayleigh, and ultimately we'd all get what we needed," Alex explained.
Two and a half years passed without a suitable donor being found.
Alex said: "That was quite a low point, knowing that Kayleigh was ill and on dialysis waiting on a transplant, and probably a lot of frustration from me because I was wanting to donate but we weren't finding any matches."
By Christmas 2016, dialysis was leaving Kayleigh exhausted.
"I just wanted to sleep all the time," she said. "I wasn't really interested in Christmas.
"My whole life was controlled from having to be at the hospital. I never had the chance to feel well."
She had looked on as other patients at the renal unit had left to have kidney transplants.
"It was really bittersweet because you'd be so happy that they'd got one, but you'd also wish it had been you," she said.
Life-changing news
Now she desperately needed a donor, but she found it a difficult issue to discuss.
"Everybody knows you are ill, but nobody really talks about it," she said.
"Some people would say 'I would donate to you', but then maybe never bring it up again."
Then, after three years of waiting, Alex and Kayleigh suddenly got the life-changing news they'd hoped for.
Surgeons were now prepared to proceed with Alex as a potential donor for Kayleigh.
It had become possible to carry out blood group incompatible transplants using specialist techniques, which removes antibodies from the blood.
"When my dad said he would definitely do it, it was quite an overwhelming feeling actually," Kayleigh said.
Alex had to prepare himself for major surgery, something he said he had been "a bit naive" about.
"It's quite an invasive procedure – they're moving a major organ for transplantation," he said.
"It was very mixed emotions because, having waited so long to find out things had progressed, there was elation.
"But at the same time there was a degree of trepidation and nervousness."
Both operations went smoothly and they were soon on their feet again, with Kayleigh feeling better the moment she woke up from the operation.
"My dad said from the start when I got really ill that he'd make sure I got better and then he did that for me," she said.
Alex's recovery took about six weeks and he returned to work after 10 weeks.
"The benefit of live donation is that I've been able to see the benefits that it's brought to Kayleigh," he said.
"It's a fantastic feeling."
Kayleigh has described it as the best Christmas present a dad could give.
"I don't know how I'm going to top it," she said. "I'll have to get him something really good."