Welsh NHS 'chaos' after computer failure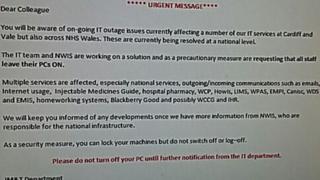 Doctors and hospital staff across Wales are unable to access patient details as a widespread failure in computer systems is affecting the Welsh NHS.
Consultants and GPs said they cannot get blood and X-Ray results because their internal portal is down.
One GP called the situation "chaos" and said: "I can't do anything. I need this system for everything."
The Welsh Government said it was investigating a technical issue at two NHS Wales data centres.
The National Cyber Security Centre said the issue affecting the Welsh NHS was not a cyber attack, but the result of technical issues.
A warning on doctors' computers reads that "multiple services are affected, especially national services".
Bangor family GP Dr Catrin Elis Williams described the situation as "very frustrating and rather dangerous".
Her computer system went down about lunchtime on Wednesday.
"Unfortunately it's caused us quite a lot of problems with trying to get patients' results, past medical histories and letters from hospitals," she said.
"We have seen a few people we can't help because we can't get that information."
The fact the system is down also means staff cannot get phone numbers of patients to contact them and cancel appointments.
Other problems include the fact notes from appointments cannot be typed up and saved, meaning there will be a backlog.
"The system has gone down before but only for short periods," she added.
"But it's been a few hours now and we don't know when it will be working again. It is causing quite a lot of confusion."
The assembly's opposition health spokesman Angela Burns said the problems were "incredibly concerning, especially in the aftermath of last year's ransomware attack on the NHS."
"The focus must now be on supporting these centres to manage this incident swiftly so that patient data is secure and that care is not adversely affected," said the Conservative AM for Carmarthen West and South Pembrokeshire.
"Welsh Government and the Welsh NHS have a duty to keep the public abreast of the situation as matters progress."
BMA Wales, which represents doctors, also confirmed there had been a crash on NHS computers, which had affected email and intranet services.
"This is under investigation by the NHS Wales Informatics Service and is being dealt with as a priority," a Welsh Government spokesman added.
Powys NHS IT department said: "There is currently a major incident affecting a number of nationally hosted systems across NHS Wales.
"The issue appears related to national firewalls and is being currently investigated.'"
Dr Alan Woodall, chairman of GP Survival UK who works from a surgery in Montgomeryshire, said: "Myself and colleagues that work in primary care cannot access electronic patient records which is severely inhibiting our ability to provide patient care.
"I'm not sure about hospitals at the moment.
"We are working emergencies only – in the middle of influenza/winter crisis this is a major impact if it continues."
Another doctor, working from a GP Surgery in the Abertawe Bro Morgannwg health board area that covers Swansea and Bridgend, described it as "chaos", adding: "I can't do anything. I need this system for everything."
A consultant at Morriston Hospital in Swansea told the BBC he cannot access blood and X-Ray results on his computer because their internal intranet portal is not working.
A senior registrar at the Royal Glamorgan Hospital in Llantrisant said the problems started mid-morning on Wednesday.