Newcastle NHS worker made redundant on holiday wins case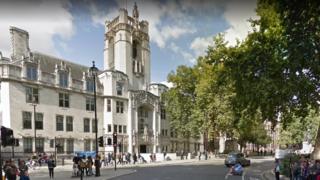 An NHS worker sent a redundancy notice when she was on holiday abroad has won her case at the Supreme Court.
The High Court and Appeal Court had upheld Sandi Haywood's claim that notice began when she read the letter, not when it was sent. The later timing resulted in a higher pension.
Newcastle upon Tyne Hospitals NHS Trust's appeal to the higher court has been dismissed.
Mrs Haywood said she was "relieved the matter has been resolved".
"I have just wanted to be treated fairly and wish that the trust recognised this rather than pursuing the matter and spending significant legal costs which could have been money spent on patient care," she said.
Mrs Haywood, from Gateshead, received the termination notice when she returned from Egypt on 27 April, 2011.
Reached 50th birthday
She had asked the trust not to decide on her redundancy during her holiday.
However, it sent the letter by recorded delivery on 21 April.
It was returned to the sorting office, from where Mrs Haywood's father-in-law collected it.
The courts were asked to rule on whether the 12-week notice period started when Mrs Haywood received and read the letter or when it was sent.
If the former, the notice would expire on her 50th birthday, resulting in a higher pension.
The High Court had awarded her just under £400,000 to cover losses, which had not been paid pending the Supreme Court hearing.
The Supreme Court ruled a written notice of termination posted to a home address starts to run when the employee has either read it or had a reasonable opportunity to do so.
Mrs Haywood worked for Newcastle and North Tyneside Primary Care Trusts for more than 30 years.